About
For over 23 years Advantage Route Systems has been providing quality software to route companies like yours. Our customers include companies that span across several continents, from small one-truck operations to large corporations. We have solutions, products, and modules that address business needs for delivery companies, and have become "the handheld experts" and are #1 in the route delivery industry. We enjoy the opportunity to work with companies across the globe and we tailor our software to meet their needs.
This site is designed to provide support for existing customers that currently operate RMA, RM2000 or Q-Route in their operations. To learn more about our products and services please visit our main site at www.AdvantageRS.com.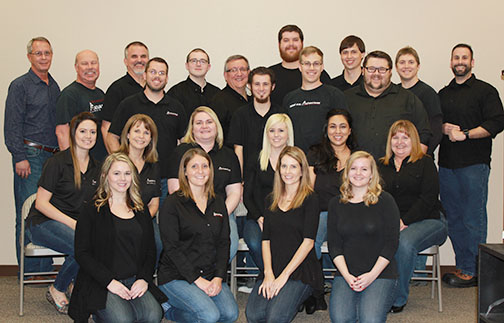 A little bit more about Advantage Route Systems below.
Our Mission
"We will continue to enhance our position as the world leader in route accounting handheld technology through aggressive product design and the highest quality customer service. We believe our success depends upon this while adhering to the highest standards of integrity."
Our Core Values
| | |
| --- | --- |
| Attribute | What it means |
| Integrity | We are open and honest in all our dealings with team members, customers, vendors and anyone associated with our company. Our integrity will never be comprised as we are transparent in all of our dealings. |
| Quality | We will produce the highest quality work and provide services that meet or exceed our customer expectations. We are all accountable for our performance. |
| Passion | We like what we do and we are passionate about our work. We care about our customers' needs and will put them first. |
| Respect | Treating each other with dignity, honesty and respect is core to our success as a team. Humility is a key element in the way we show respect to others. |
| Teamwork | We work as a team to support the well-being of our team members, customers and the company. We work interdependently to accomplish our best work. |
| Trustworthy | We are trustworthy. We work together to create a culture of inclusion built on trust, respect and dignity for all. Our customers can count on us. |
| Communication | We will communicate promptly, frequently and professionally with our team members and our customers. We will use the most appropriate method to keep others informed. |
| Efficiency | We complete our work on time and within budgets using the best tools and our individual creativity. We always use our time wisely. |
| Positive attitude | At all times we will have a positive and cheerful attitude to our coworkers, customers and company. |
| Fun and Crazy | We will promote a relaxed and fun atmosphere. We are crazy enough to believe that we can change the world with our attitude and efforts. |
| Loyalty | We are not only loyal to our team, but we earn our customer loyalty by providing the highest quality and value to them. |
| Perseverance | Despite the challenges we face, we will persevere and be successful in completing projects on time and making 'a moment of magic' with our customers. We get the job done. |
Our Business Objectives
| | |
| --- | --- |
| Attribute | What it means |
| Committed to employees | We demonstrate our commitment to our employees by promoting and rewarding based on performance. Our work environment is a reflection of our core values. |
| We train our employees for success | By developing our skill sets, it will support our core values and business objectives. Each team member will have the skills that let them be creative and effective while doing their best work for our customers. |
| Creating leaders | We develop leaders at all levels who achieve business results, exemplify our values and lead us to grow and win. |
| Profit | We create profitability to support our growth; reward our employees and provide a return to our stockholders. |
| Market Leadership | We lead the marketplace by delivering useful and innovative products; exceptional service and customer oriented solutions. |
A Brief
Since 1994, ARS has been moving up the ladder in the route accounting industry. Today, it's the leading world wide provider of route accounting solutions. It has helped many organizations achieve new heights in the delivery operations. Following is a brief journey since it all began.
1993: Handheld software on EHT-30
1994: Advantage Route Systems formed as Corporation
1995: RMDock interface
1997: RM2000
1998: CE Version of handheld software
1999: RMAdvanced released
2003: Lab testing with Microsoft
2005: Microsoft review of ARS process
2006: Mango design begins (The next generation of .Net route accounting software)
2007: ARS in 30 countries + USA. Mango announced
2008: Series 4 of RMA released
2009: Series 5 of RMA to be released. Mango Beta release
2011: Series 6 of RMA released
2013: Android version of handheld for RMA and RM2000
2014: Release of RM Series 7 – Next gen replacement for RMA and RM2000.